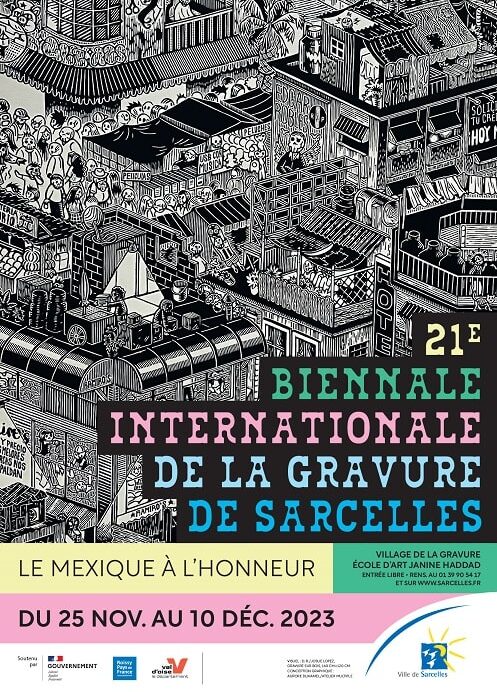 Exhibition
21st Biennale of Engraving, Sacrelle,France
25 Nov – 10 Dec, 2023
The City of Sarcelles and its Janine Haddad art school with the support of the Ministry of Culture present, from November 25 to December 10, the 21st edition of the Sarcelles International Engraving Biennial. Etchings, burins, aquatints in black and white or color, more than 450 works by 250 artists from 36 countries will be exhibited for the first time to the French public. 
Among the highlights, the spotlight on Mexican engravers, the unique presentation of works by the Lebanese painter-engraver Assadour, as well as carte blanche in Canada, Colombia, Italy, Japan, to Poland, Armenia, Lebanon and Ukraine. Around a 1 m000 exhibition, the Biennale also offers guided tours, conferences, workshop visits and demonstrations for all audiences.
Enough to show and experience all the vitality of contemporary engraving and the richness of an art in constant evolution since the first trace left by prehistoric man. The event is free.
From November 25 to 10 December 2023
Free entry (no reservation required)
Tuesday to Saturday from 10 a.m. to 17:30 p.m.,
Thursday from 10 a.m. to 20:30 p.m. and
Sunday from 14 p.m. to 17 p.m.
Engraving Village, Janine Haddad Art School